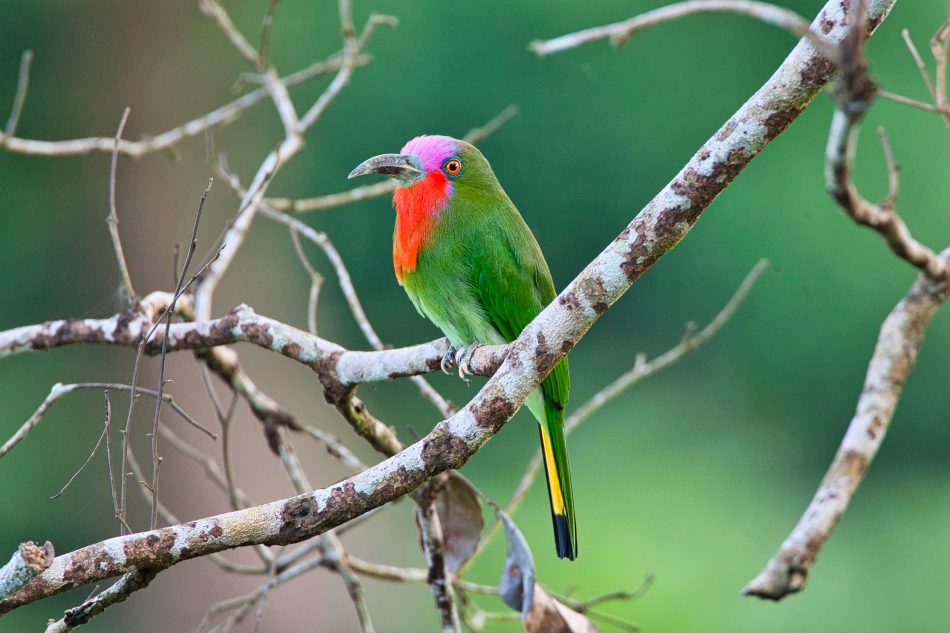 Continued from PART I Kinabalu and Poring Hot Springs
PART II:  Sepilok
1st March 2013
The next few days were going to be spent at the Rainforest Discovery Centre – a boon for wildlife photographers with its wide trails, towers and canopy walkways.  The area is not huge but a few days there really gives a good opportunity to get to know the area and bird movements.  There are longer trails but most of my time was spent in the main areas – the walkway, the loop round to the hornbill and broadbill towers (new) and the kingfisher and ridge trails.  Different areas were better at different times of the day e.g. the Kingfisher trail was particularly productive around midday when a number of birds came down to the stream to drink and bath but was relatively quiet in the late afternoon.  My morning always started off on the canopy walkway – a good place for bird activity and the first place to get the light.
Great views of a family of Diard's Trogons (male, juvenile and female) were the first highlight of the morning, but a good range of birds were seen.
Black & Yellow Broadbill, Red Bearded Bee-eater, Black Magpie, Verditer Flycatcher, Black Winged Flycatcher, Green Imperial Pigeon, Greater Green Leafbird, Thick Billed Spiderhunter, Eurasian Sparrow, Jungle Myna, Red-Billed Malkoha, Bushy Crested Hornbill, Black Hornbill, White Bellied Woodpecker (nesting near the cafe), Long Tailed Parakeet, Jungle Crow, Grey Rumped Treeswift, Plaintive Cuckoo, Blue Throated Bee-eater, Eastern Crimson Sunbird, Ruby Throated Sunbird, Purple Throated Sunbird, Little Spiderhunter, Rufous Collared Kingfisher, Chestnut Winged Babbler, Grey and Buff Woodpecker, Black Naped Monarch, White Vented Myna and a Common sandpiper in the carpark!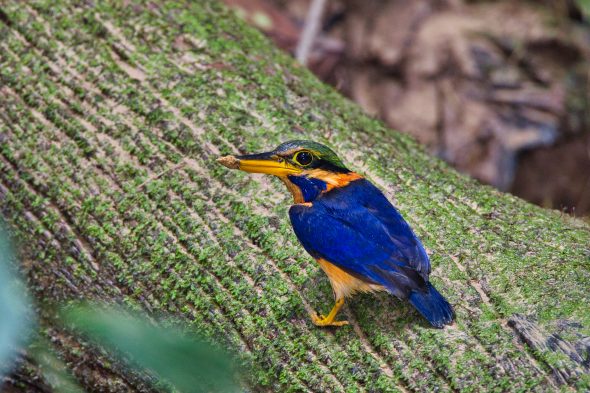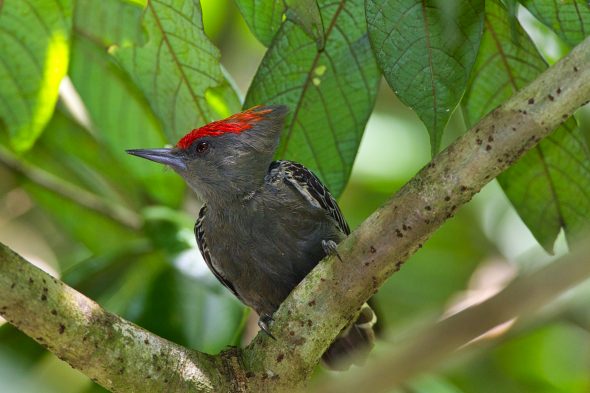 The afternoon was mostly spent around the hornbill tower – mainly trying to take advantage of the breeze – and the highlight of the afternoon was great and prolonged views of a Red Bearded Bee-eater hawking at eye level.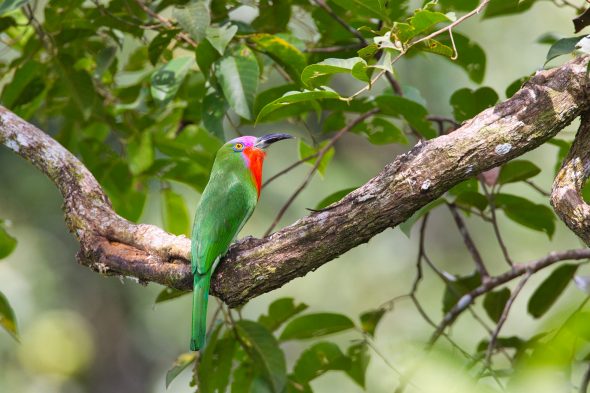 Velvet fronted Nuthatch, Raffles Malkoha, Black Hornbill, Plain Sunbird, Brown Barbet, Greater Green Leafbird, Large Woodshrike, Buff Vented Bulbul, Red Throated Sunbird, Blue Eared Barbet, Dusky Munia, Blue Throated Bee-eater, Ashy Tailorbird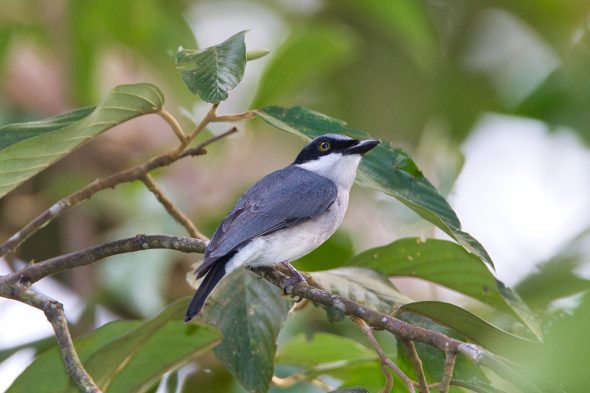 One of my photographic targets was a shot of a flying Giant Red Flying Squirrel but there were no signs of them from the canopy walkway.
2nd March 2013
The morning started off well before I even hit the canopy walkway with a pair of Diard's Trogons calling and hawking just after the first bridge.  And whilst trying to get a photo of them, a pair of Black & Red Broadbills come into view.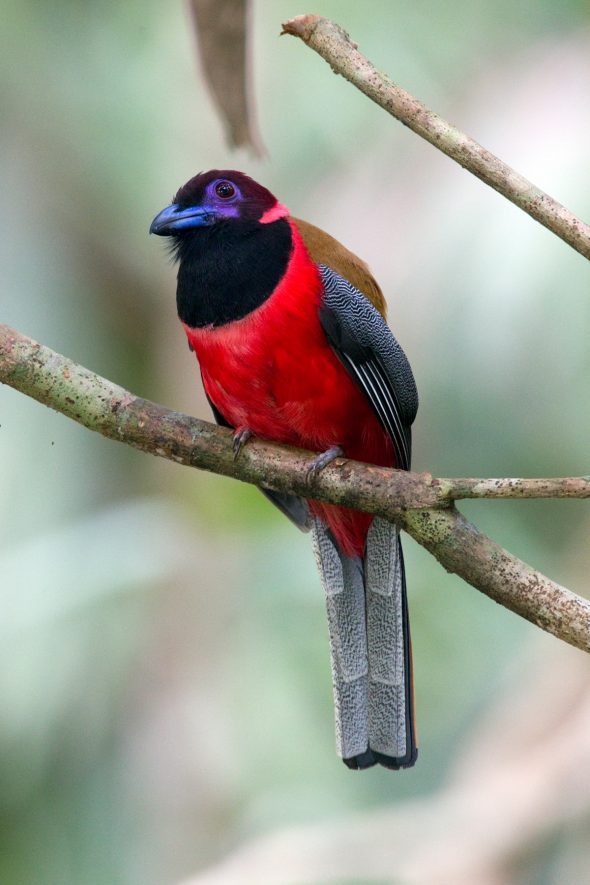 Black Backed Kingfishers were also very conspicuous that morning with a pair seen mating from the trail up to the Hornbill tower and another pair around the aptly named Kingfisher trail.   Just after the kingfishers, I heard a whistling Black & Crimson Pitta which I finally managed to locate after going briefly off trail.  Pittas often call from their favorite perches off the ground but this one was much higher than I had ever seen previously, approximately 8-10 meters up – too high to get any decent photographs.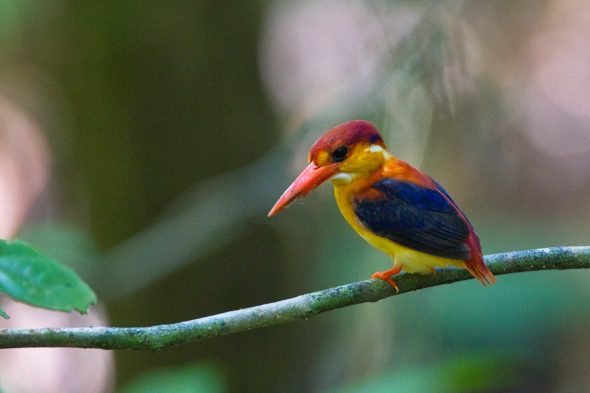 Also seen:  Ashy Tailorbird, Green Iora, Black-Naped Monarch (on nest), Asian Glossy Starling
In the afternoon, I headed to the Sepilok Nature Resort where I had seen a Hooded Pitta in previous years.  Walking around the jungle trail, I quickly got a response from a Hooded Pitta but it was hard to get a decent view.  I did however manage to see a Chestnut Necklaced Hill Partridge, a number of Asian Fairy Bluebirds and a Scarlet Backed Flowerpecker.
Returning to the RDC, I took the Kingfisher Trail up to the Hornbill Tower, where I spent most of the afternoon picking up:
Black & Red Broadbill, Scarlet Minivet, Bornean Brown Barbet, Black Hornbill, Jungle Crow, Maroon Woodpecker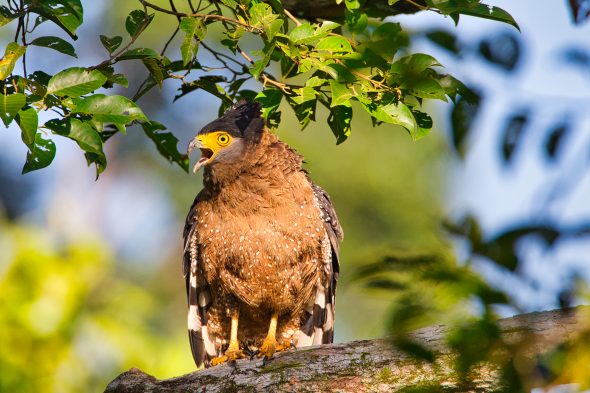 A first for me was being 'buzzed' by an aggressive Crested Serpent Eagle which took exception to me being up in the canopy – swooping on me to within a meter!  I took the hint and quickly descended back to terra firma where my already racing heart went into overdrive when a Black & Crimson Pitta started whistling close to the path!  My excitement seemed to be matched by the pitta's as it came in close and we serenaded each other with periodic whistles over the next half hour!  What an afternoon, what a day!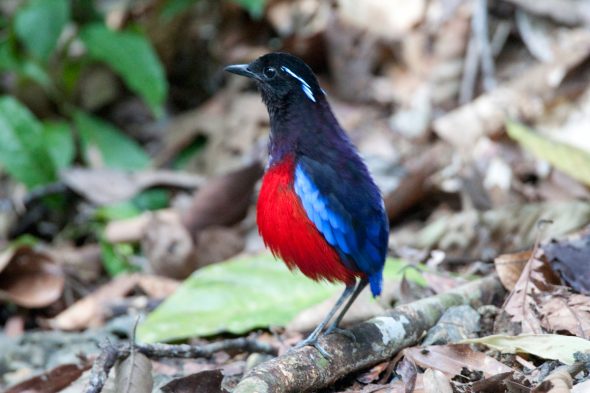 3rd March 2013
Another morning spent at the RDC after a pre-dawn arrival, had me following the same routine and largely picking up the same birds in the process.  The new additions being – Rufous Winged Philantoma, Fiery Minivet, Red Faced Malkoha, Banded Woodpecker, Large Woodshrike, Rufous Winged Babbler.
I also decided to return to the Sepilok Nature Resort to try to photograph the Hooded Pita again but there was no sign of it this time although I did see the Chestnut Necked Hill Partridge again.
Arriving back at the RDC at 3pm, I headed up to the cafe to the start of the Kingfisher trail when I heard a strange call from the trees in front of me.  Snapping out of my post lunch haze, I recognised it as the Borneo Bristlehead and after a quick scan of the trees, I picked up movement and soon had Borneo's strangest endemic in view.  The Bristleheads were moving down the hill away from the canopy walkway and I had visions of other birders coming off the walkway 'high five'-ing each other after seeing these beauties (or beasts?) at close range.  As it turned out, the Bristleheads had evaded everyone else and had passed through unnoticed.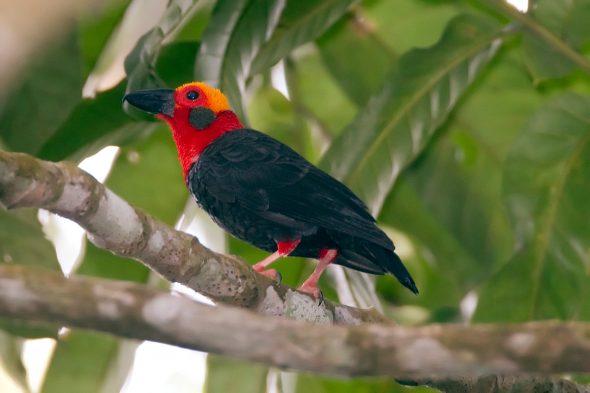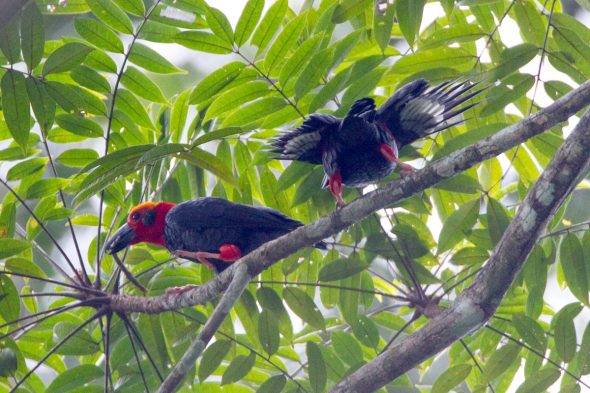 The Bristleheads were a hard act to follow and I didn't manage anything else new but did see the Bat Hawk again.
4th March 2013
My last full day in Borneo and after the fantastic birding over the previous days, I opted to stay in Sepilok for another day rather than birding Mt Kinabalu.  A Large Tailed Nightjar was calling from near the resort but it didnt show but I did only breifly look.
The morning was productive however with a number of new birds for the trip – a Red Naped Trogon from the Trogon (!) Tower, Black-Capped Babbler (good views), Emerald Dove, Dark Throated Oriole (pair), Bar Bellied Cuckoo-shrike, Bushy Crested Hornbill, Orange Bellied Flowerpecker, Black Magpie (good views).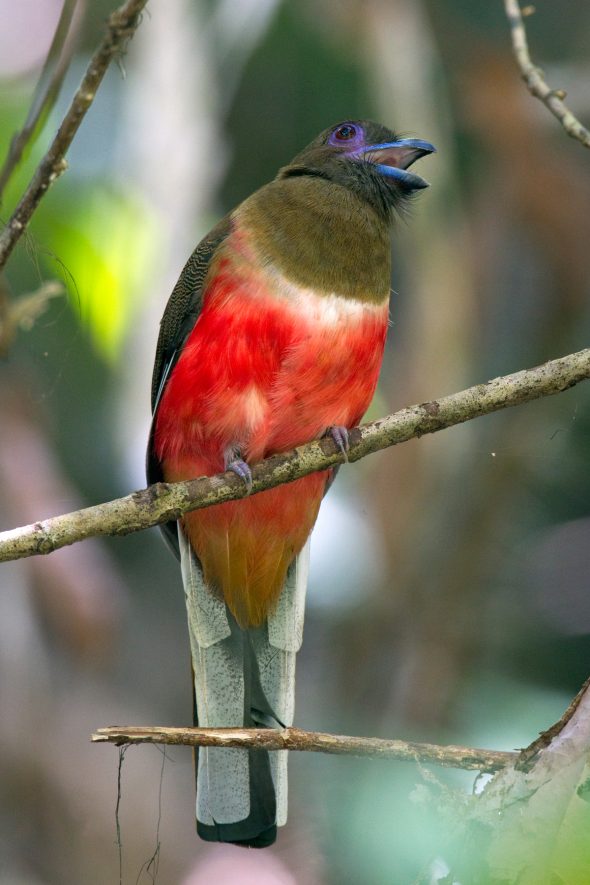 Reluctently leaving Sepilok at 4pm, I started the journey back to KK staying overnight at Mt Kinabalu.  Whilst driving back and listening to the radio, I heard the news of the 'troubles' in Sabah – only an hour down the road from where I had been, blissfully unaware.
5th March 2013
Leaving at 4:50am, I arrived at the airport at 7am, having amde good time up until hitting the outskirts of KK when there were massive traffic jams ahead of a big police roadblock – a consequence of the trouble in east Sabah.
In summary, my time in Sepilok had been fantastic and had saved the trip from a photographic point of view (a point illustrated by the ratio of photographs included in the 2 posts).  Birds were extremely active and consistently good views were had of things.