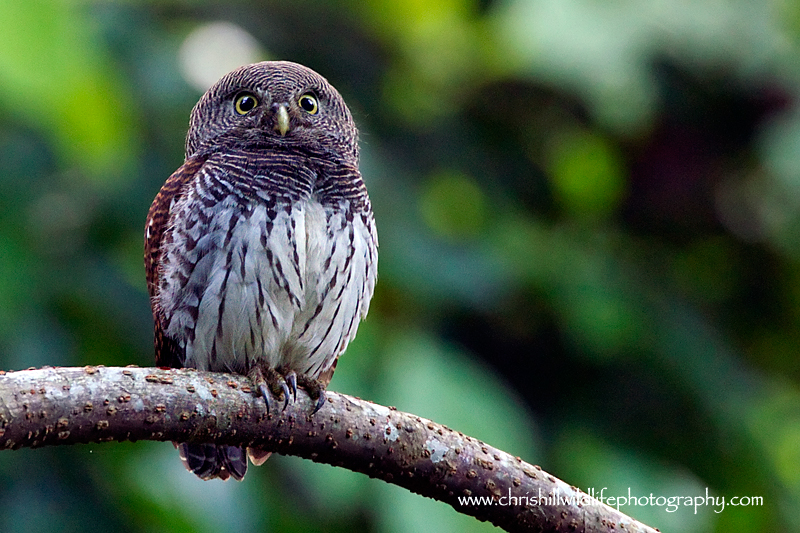 SRI LANKA TRIP REPORT – JAN / FEB 2013
Written by:  David Hill & Chris Hill
SUMMARY:
– 15 night trip to Sri Lanka between 25th January 2013 and 9th February 2013
– Key objectives were to see all the Sri Lankan endemic birds and also enjoy whale watching and leopard spotting
– All objectives were met with all 33 of the possible endemics seen and 32 photographed; 3 separate leopard sightings and over 10 Blue Whales seen during the relevant excursions
– Local guide provided was excellent in terms of birding as well as looking after us fantastically well during our trip
– Sri Lanka was a delightful place to visit with good accommodation, food and infrastructure
LOGISTICS and ITINERARY:
Booked through 'Walk With Jith' who provided an experienced bird guide and made all the local arrangements.
We were the sole participants on the tour, having a dedicated guide who doubled as a driver (car also provided).
David flew from the UK and was met by Upali at the airport and drove straight to Kitulgala.  Chris' flight from Singapore didn't arrive until 12am so was met by a different driver who transferred him to Kitulgala to meet up with David and Upali.
Tour cost was GBP 1350 per person which did not include the Whale Watching trip or the second day's jeep hire in Yala.  Lunches were also generally not included.
The trip itinerary was split as follows:
Kitulgala (2 nights)
Dambulla (2 nights)
Kandy (1 night)
Nuwara Eliya (2 nights)
Tissamaharama (3 nights) for access to Yala National Park
Sinharaja (3 nights)
Mirissa (2 nights) for whale watching
The order in which sites are visited is obviously dictated by their location relative to each other. We essentially went in a clockwise direction which resulted in Sinharaja being the penultimate site of the trip. This is advantageous as it is the best site in Sri Lanka for forest endemics and by the time it is visited forest birding skills should be at their peak and also allows for a concentrated effort on the "missing" endemics.
Visas can be obtained prior to arrival from www.eta.gov.lk/slvisa/.
Money – changers were at the airport and were open when both flights arrived.  There were also widespread ATMs and no issues were noted using these or accessing funds.
Mobile phone coverage everywhere although this was patchy in Sinharajah (particularly depending on your provider).
No alcohol is sold on public holidays (or at Martin's Place, Sinharaja) – make prior arrangements!
BOOKS
Sri Lanka is blessed with a selection of up to date field guides. We used A Field Guide to the Birds of Sri Lanka by John Harrison (2nd edition 2011) and Birds of Sri Lanka by Deepal Waragoda, Carol Inskipp, Tim Inskipp and Richard Grimmett (2012). The latter is an offshoot of the Helm Field Guide – Birds of the Indian Subcontinent (2011) and was the field guide used by most other birders we met during the trip.
In addition there is the second edition (2012) of Birds of South Asia The Ripley Guide by Pamela Rasmussen and John Anderton This is in two volumes, the first of which is a field guide. The second volume contains a wealth of information and is essential for any detailed information on the birds of the sub-continent and the latest taxonomic proposals (see below).
We also used Mammals of Sri Lanka by Gehan De Silva Wijeyeratne and Snakes and Other Reptiles of Sri Lanka by Indraneil Das and Anselm De Silva.
SYSTEMATIC LIST
There have been a number of recent taxonomic changes (and proposed changes) which can be rather confusing. For example the number of Sri Lankan endemics was generally considered to be 26 prior to the first edition of Rasmussen and Anderton which increased the figure to 33. As with anything taxonomic these proposals are subject to some argument.
In addition, a number of proposed splits have been made for species that occur in Sri Lanka and India from other parts of Asia and Europe. For example, Indian Blackbird has been split from Common Blackbird resident in parts of India and Sri Lanka. There is also the comment that the Sri Lanka sub species kinnisii may itself be a distinct species. These are marked with an asterisk in the List as both as aide memoire and also that if the opportunity arises it may be helpful to note any identification, habit differences etc.
DETAILED NOTES:
25th January 2013 – Arrival and transfer to Kitulgala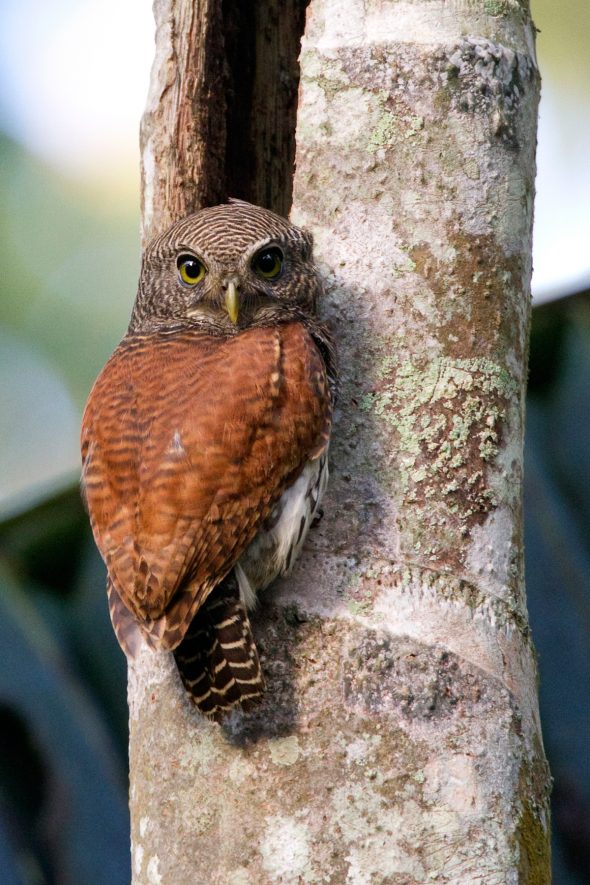 David arrived at Colombo airport about 20 minutes early at 12.45pm Clearing immigration and customs took no time at all then to be met by Upali. They were soon on their way to Kitulgala, seeing a number of commoner birds such as Little Cormorant, Common Myna, Brahminy Kite, Black-headed Ibis, White-bellied Drongo and White-throated Kingfisher en route. Also seen close to Kitulgala was a troop of the endemic Toque Monkey.
After checking in at the hotel, late afternoon was spent in the grounds of a private residency where a number of good birds were seen. The highlight being good views of an Indian Pitta and subsequently a pair of Spot Winged Thrushes, both sitting on bare branches.
Main Birds: Black Bulbul, Sri Lanka Green Pigeon, Yellow-browed Bulbul, Indian Pitta, Spot-winged Thrush, Black-rumped Flameback and Yellow-fronted Barbet.
Overnight at the 'Rest House', Kitulgala.
26th January 2013 – Kitulgala
Chris arrived at the Rest House at 3.00am having flown in from Singapore to Colombo at midnight. Needless to say both of us felt a little tired early morning, but the prospect of all those lifers soon banished that.
The morning was spent in and around Kitulgala at a number of different sites. The first was the grounds of a private residence, primarily in search of the Chestnut Backed Owlet.  Another key focus was looking for the Green Billed Coucal in the grounds of the Plantation Hotel.  We had great success with the Owl, with a pair seen well and investigating nesting holes.  Despite a long wait for the Coucal at the hotel, we had no luck with that.  The general birding was however good and it was a great introduction to Sri Lankan birds and an easy start to the trip.
Main Birds seen:  Emerald dove, Lesser Goldenback, Chestnut Backed Owlet, Layard's Parakeet, Golden Fronted Leafbird, Sril Lanka Green Pigeon, Common Tailorbird,  Yellow –billed Babbler, Orange-billed Babbler, Brown Headed Barbet, Yellow Fronted Barbet,  Scarlet Minivet, Common Iora.
Lunch at the Kitulgala Rest House where the river was busy with people swimming, bathing and singing due to public holiday.  This was close to where the Bridge over the River Kwai was filmed
We headed off into the Kitulgala Forest Reserve in the afternoon via the suspension bridge and surrounding farmland.  First bird seen was a soaring Black Eagle but once inside the reserve the birding was unsurprisingly slower but got decent views of a female Malabar Trogon and Sri Lanka Grey Hornbill.
Main birds seen:  Indian Cuckoo, Sri Lanka Crested Drongo, Purple-rumped Sunbird and Sri Lanka Blue Magpie.
Heard only: Spot-Bellied Eagle Owl, Green-billed Coucal and Serendib Scops Owl.
Overnight at the 'Rest House', Kitulgala. Late evening in the hotel was spent watching FA Cup 4th round programme on a South Asian sports channel. This provided another boost, Luton (a dark secret) achieved the upset of the round at Norwich.
27th January 2013 – Kitulgala to Sigiriya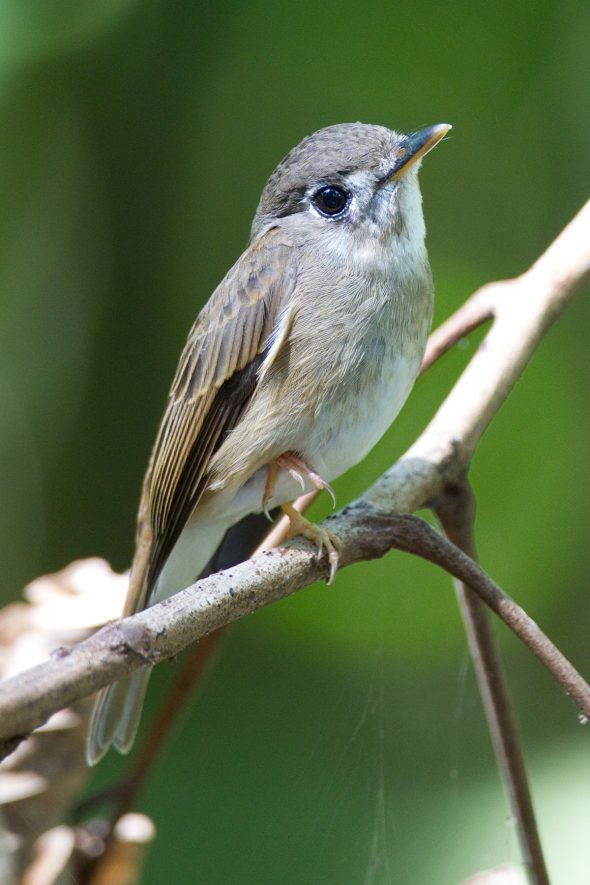 The early morning was largely spent trying for Green Billed Coucal at Plantation Hotel without success (but we did get great views of Brown Capped Babbler and Oriental Dwarf Kingfisher) before leaving Kitulgala for Sigiriya. Layard's Striped Squirrel, Giant Squirrel and Indian Brown Mongoose were also noted during our stay at Kitulgala.
The journey by road was fairly slow but interesting passing a large roosting colony of Common Flying-foxes near Kurenegala and also doing some waterbird watching at a few large pools close to Dambulla..
The drive took us through Kurungela which is known as 'Little Japan' due to all the second hand car parts stacked in huge quantities along the road!
Main birds seen:  Spot-billed Pelican, Cotton Pygmy-goose, Oriental Darter, Great White Egret, Sri Lanksa Woodshrike, Indian Peafowl, Blue-tailed Bee-eater, Chestnut-headed Bee-eater, Purple Swamphen; Changeable Hawk-eagle and Yellow-eyed Babbler.
Overnight at the 'MPS Village', Dambulla. At dusk we walked around the lake, around which on one side the accommodation was grouped. We first picked up 5 Malabar Pied Hornbill going to roost iin a tree on the far side of the lake. Then as the light was fading, a Brown Fish Owl flew across to land in a dead tree providing good views for a couple of minutes. Later in the evening in the restaurant we saw what was probably a Fishing Cat walking across the lawns to the lake.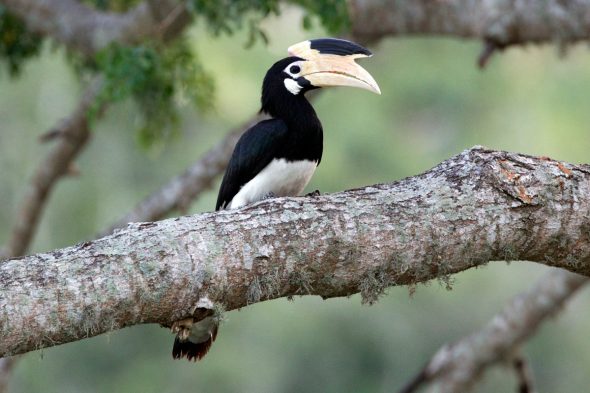 28th January 2013 – Sigiriya
We opted to bird at various spots in the Sigiriya area in the morning rather than climbing the impressive Sigiriya rock.  The birding was a good option with great views of an Indian Pitta, Tickell's Blue Flycatcher, White-rumped Shama and Coppersmith Barbet amongst others.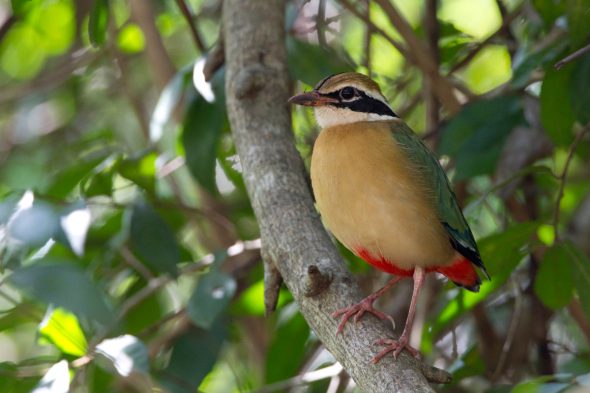 Main birds seen: ♂ Paradise Flycatcher, Common Kingfisher, Grey-breasted Prinia, Jungle Prinia, Pheasant-tailed Jacana, and Lesser Whistling Duck.
After another good lunch at a roadside restaurant, we had a more cultural focussed afternoon, exploring the Polonnaruwa archeological site.  The birding didn't however stop at the impressive 1,000 year old ruins, most notably seeing a Barn Owl roosting in one of the temples!
Main birds seen: Woolly-necked Stork, Crested Treeswift, Paddyfield Pipit, Asian Koel and Indian Cuckoo.
Overnight at the 'MPS Village', Dambulla.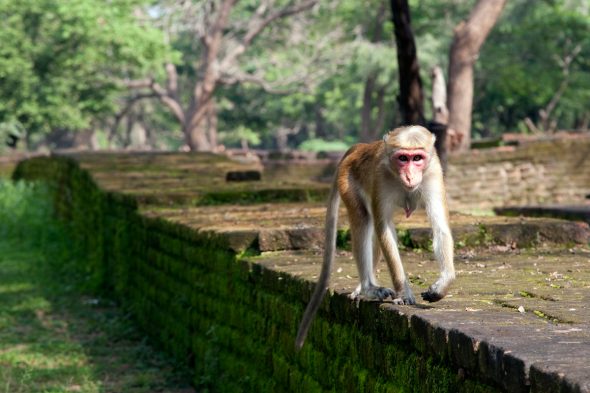 29th January 2013 – Sigiriya to Kandy
Early morning at MPS Village produced a Grey-headed Fish-eagle followed shortly afterwards by a juvenile.
One way of passing time on the various road trips is trying to spot the best moto on a tuk-tuk – the best one for today was  "No sweat, no sweet".  I think it was that way round, but some will probably view "No sweet, No sweat" as just as true!
A more relaxed day with the afternoon spent wandering around the Udawatta Kelle forest Reserve on the edge of the city.  This pleasant forest oasis was a world away from the bustling city and it was an enjoyable afternoon despite the birding being a little slow.
Main birds seen: ♂ Paradise Flycatcher (white morph), Dark-fronted Babbler, Lesser Hill Myna and Layard's Parakeet.
Overnight at the 'Nature Walk Resort', Kandy.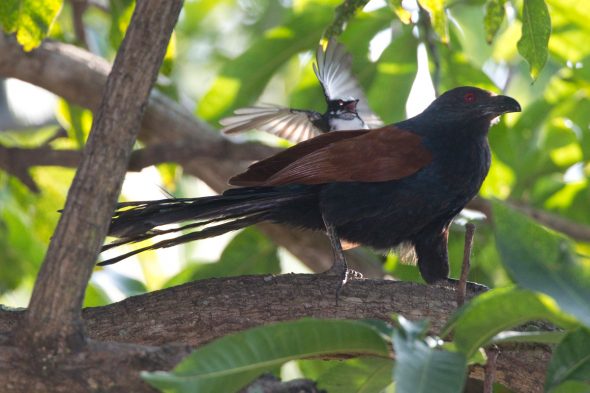 30th January 2013 – Kandy to Nuwara Eliya
A short wander along the road from the Nature Resort before breakfast was unexpectedly productive with a number of good birds seen, including a new endemic – Sri Lankan Scimitar Billed Babbler.  Also saw: Crimson-backed Flameback, Great Tit, Brown Shrike and Sri Lanka Small Barbet.
After a good breakfast, we left Kandy for the highlands of Nuwara Eliya.
Stopped at Glenloch Tea Plantation for a walk around the factory and a cup of exquisite tea!   The factory and plantation is 140 years old and was well set up as a tourist stop.  One thing that surprised me was that green and black tea actually comes from the same bush – the difference is down to how it is processed.
Birds seen:  Oriental Honey Buzzard as we climbed.
We were back on the endemics trail after lunch, birding picking up the Sri Lankan Dull Blue Flycatcher but dipped out on the Sri Lankan Bush Warbler and untickable views of the Sri Lankan Wood Pigeon. We also saw a troop of Purple-faced Leaf Monkeys in a forested area. The hour of daylight was spent at a second site – a stake out for the Whistling Thrush.  The temperature noticeably started dropping with the falling sun and despite a patient wait, we had no success with the thrush.  We were able to add two new endemics, with close views of the Sri Lankan White-eye and Sri Lankan Yellow Eared Bulbul.
Main birds seen: Pied Bushchat, White-bellied Sea-eagle, Grey-headed Canary Flycatcher and Bar-winged Flycatcher-shrike.
Overnight at the 'Binota Residency', Nuwara Eliya.
PART II to follow shortly….