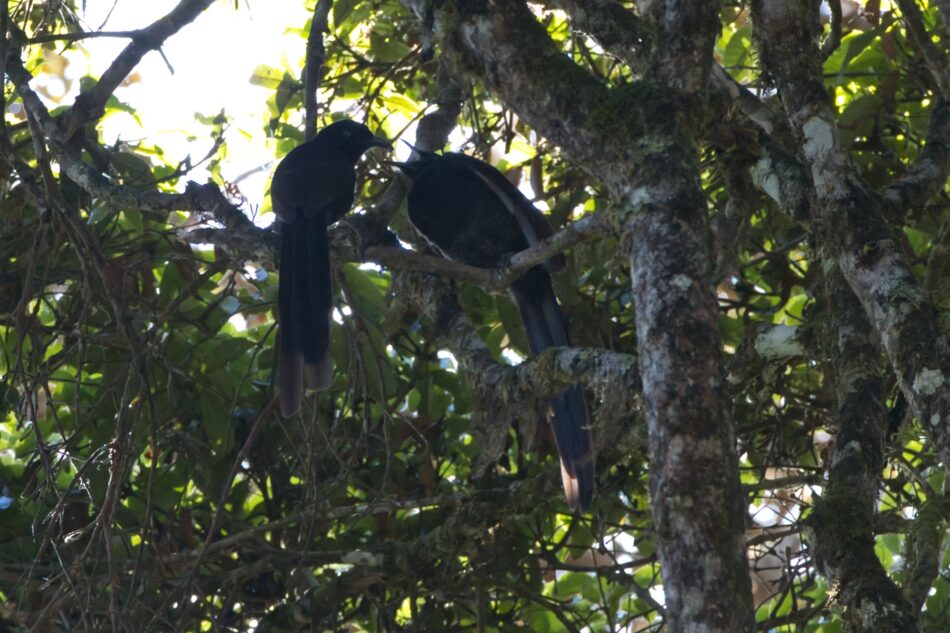 5th AUGUST 2023: The focus today was not one but three new Birds of Paradise and high altitude ones at that. That meant a long hike up to the higher elevations of the Arfak Mountains which we started at around 7am after a short drive from Minggre (approx altitude 1460m). There was plenty of bird activity at the lower elevations and a lovely gentle start to the trek.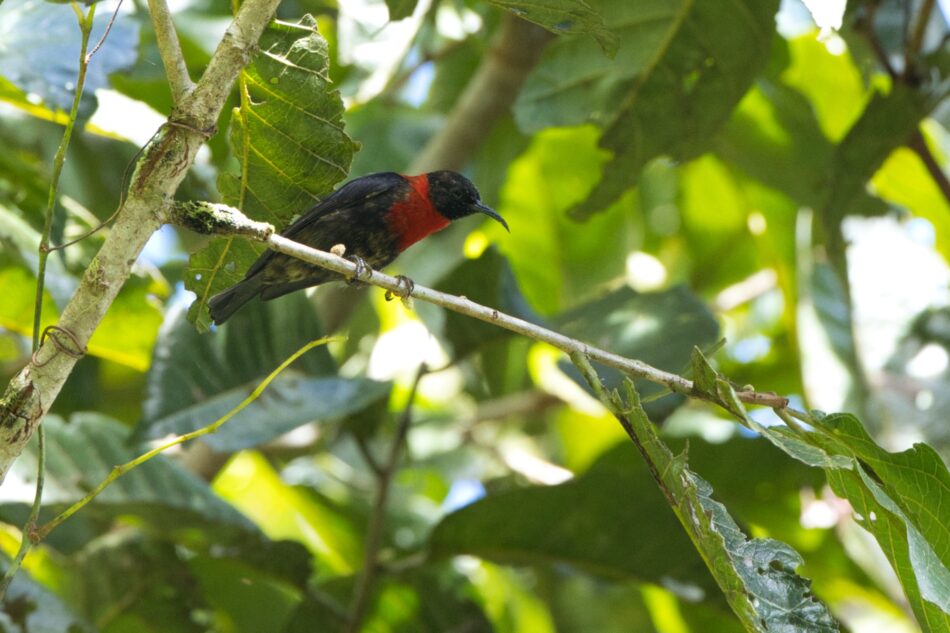 After a couple of hours of walking (mostly birding) we crossed a couple of riverbeds and arrived at the best area to see the Long- tailed Paradigalla, the first of our 'BoP' targets. Taking a rest in a slightly open area, we heard some very heavy wingbeats from a bird that flew into the canopy right above our heads – the paradagalla! It gave some decent views whilst it foraged above us but the dense foliage and steep angle prevented a decent photo.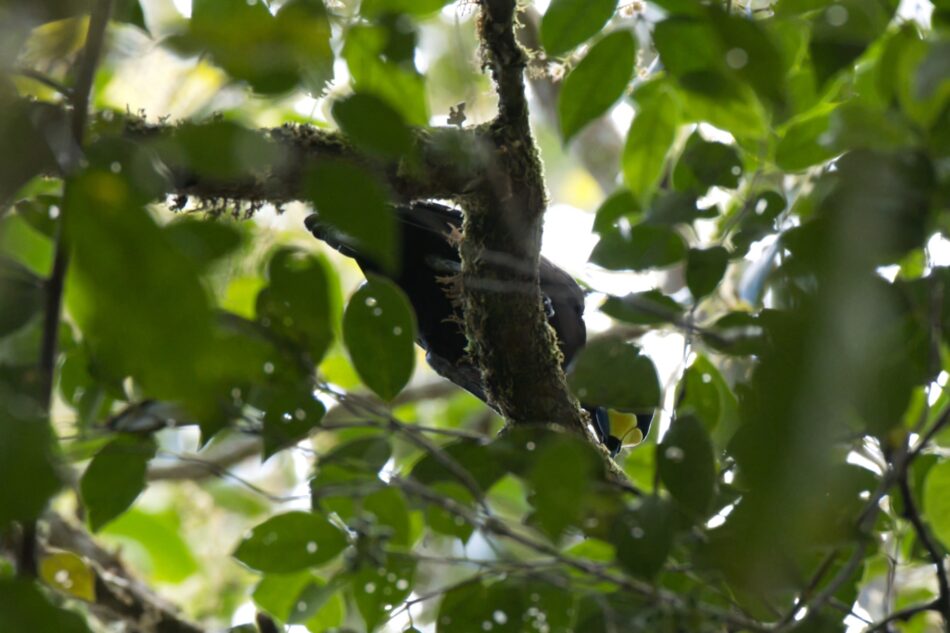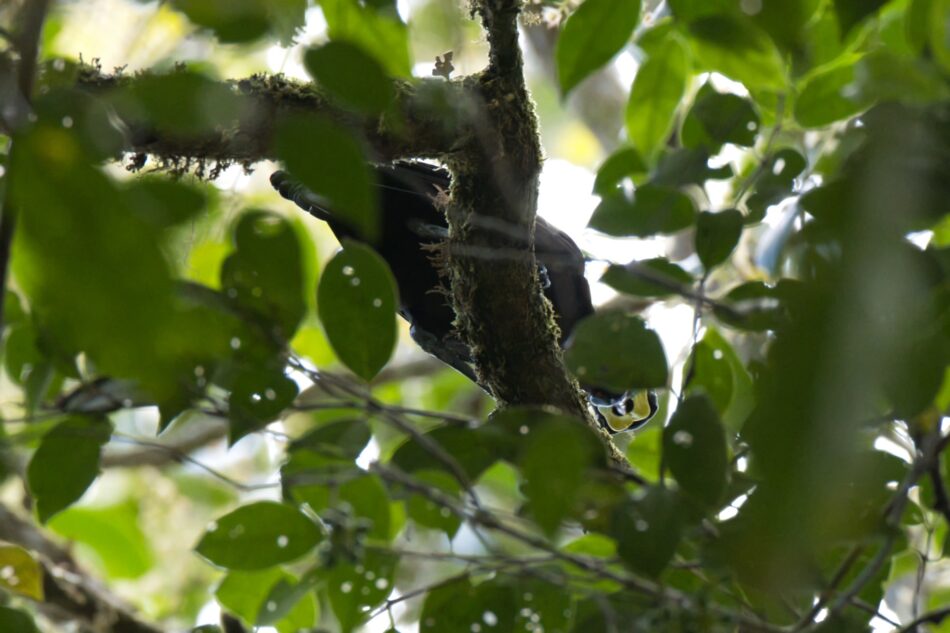 From this point on, the hike got a bit steeper and the path itself was pretty slippy following the previous nights rain.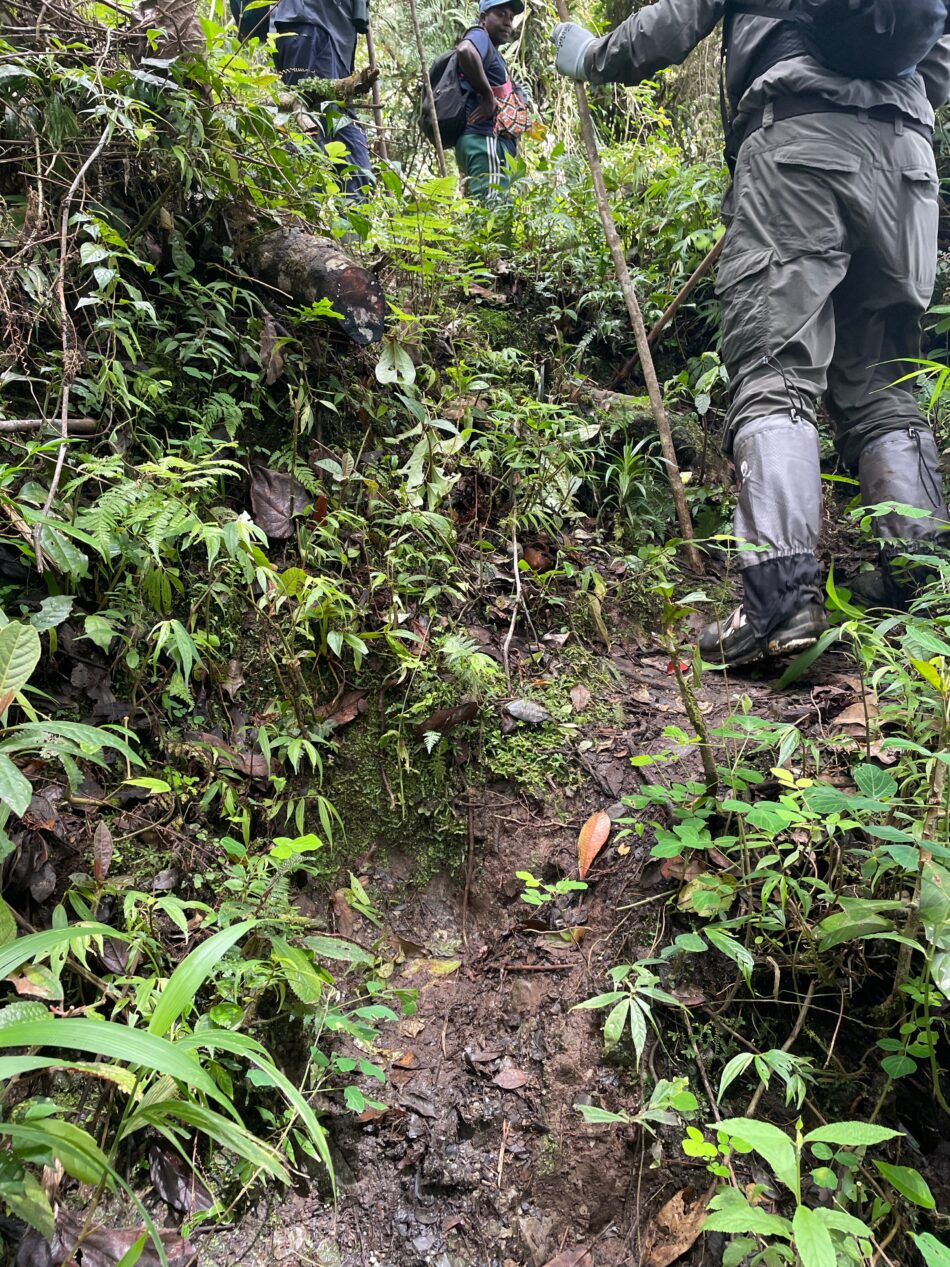 We arrived at the campsite at around 12pm (rough elevation 2040m) and had a quick lunch before heading further up to the summit (approx 2160m) to start our search for the Astrapia and male Black Sicklebill. Unfortunately, in keeping with the prior afternoons, the cloud and rain came in during the afternoon and despite picking up a few nice birds, the afternoon was another washout in terms of our main targets. After a slightly tricky walk back down to camp in the gloom, we had an early dinner and settled down in our accommodation for a wet and windy night.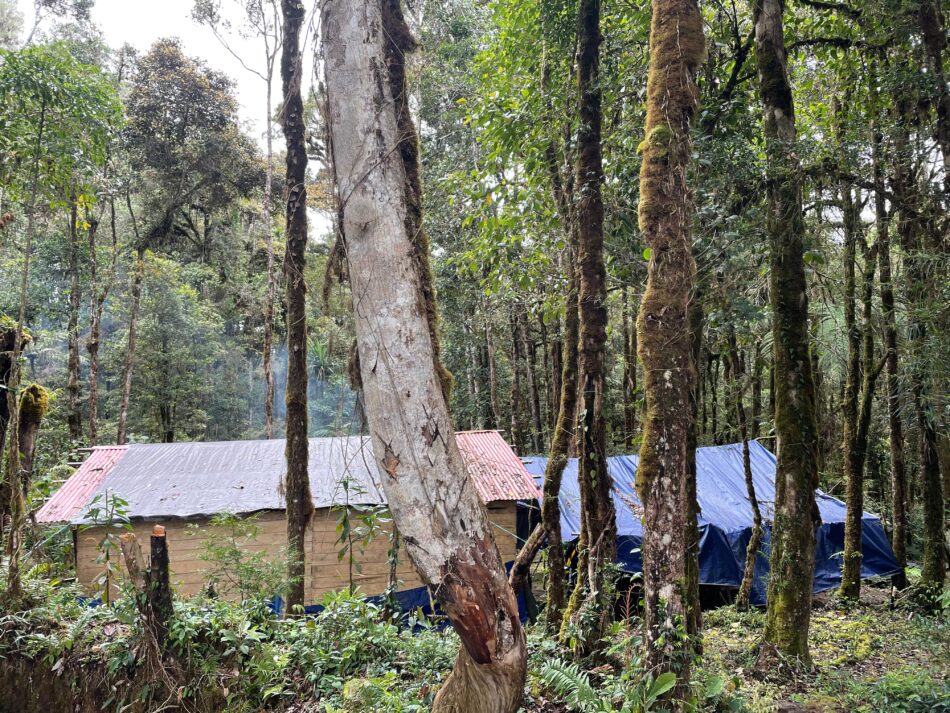 Other birds seen on the day: Glossy Swiftlet, Uniform Swiftlet, White-Bibbed Fruit Dove, Papuan Mountain Pigeon, Pygmy Lorikeet, Yellow Billed Lorikeet, White-Shouldered Fairywren, Rufous Sided Honeyeater, Marbled Honeyeater, Mountain Myzomela, Red-Collared Myzomela, Spotted Honeyeater, Cinnamon-Browed Melidectes, Vogelkop Scrubwren, Tit Berrypecker, Black-breasted Boatbill, Mottled Berryhunter, Regent Whistler, Friendly Fantail, Black Monarch, Long-tailed Paradigalla, Slaty Robin, Canary Flyrobin, Green-Backed Robin, Black-fronted White-eye, Capped White-eye, Olive-Crowned Flowerpecker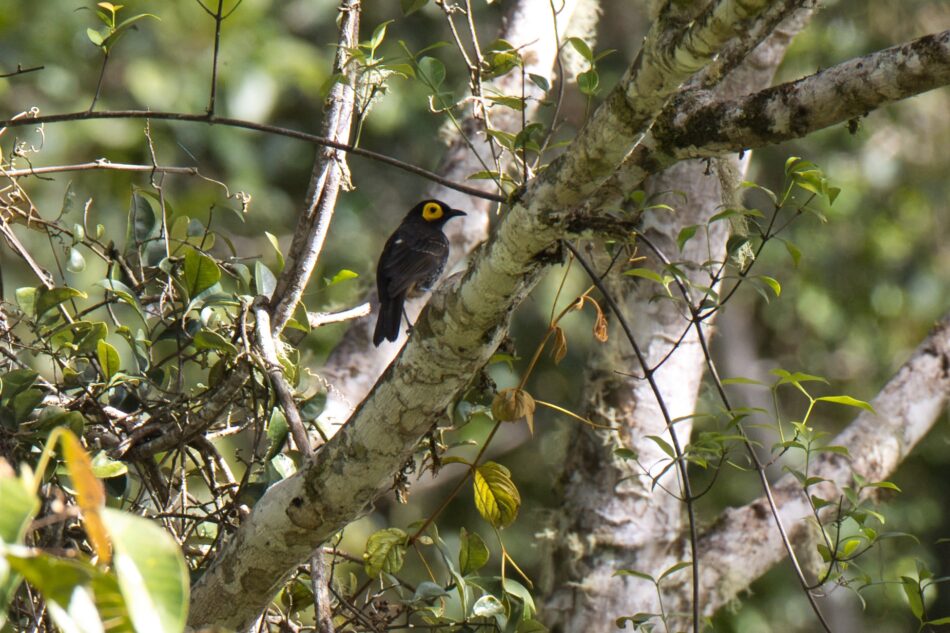 6th AUGUST 2023:
Fortunately, the morning started dry and clear so we eagerly headed back to summit to try again for the Astrapia. We went slightly further this time and settled near a fruiting tree that brought in a female Black Sicklebill, Vogelkop Bowerbird and a couple of Ornate Fruit Doves.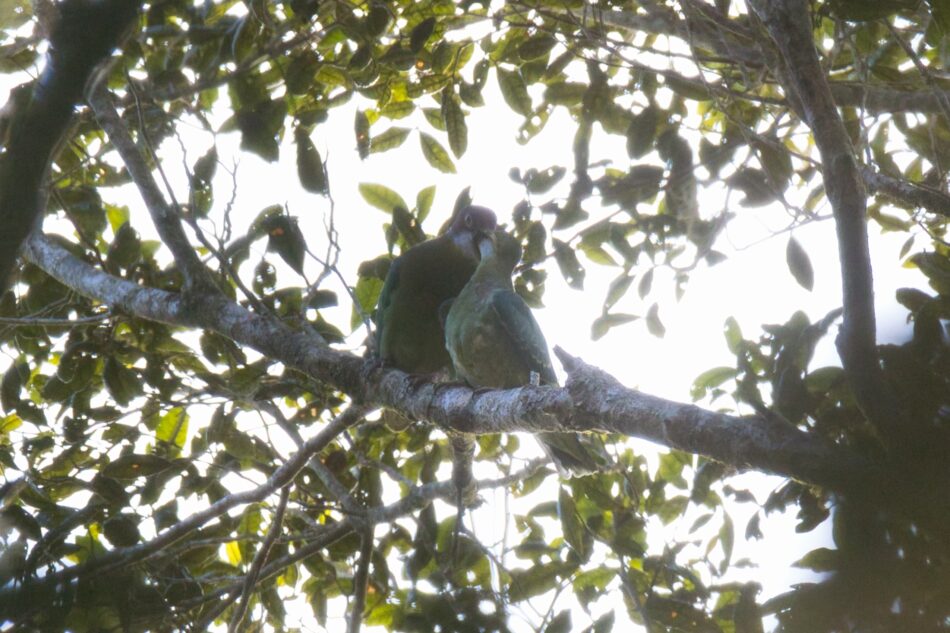 We didn't have to wait too long before some movement to our right caught our attention – a spectacular Arfak Astrapia! We watched a male feeding in the canopy before a young bird came into view and were were able to have prolonged views of the male foraging and feeding the young.
The Astrapia has a very restricted range and is endemic to the Bird's Head region of West Papua between 1700-2450m. Practically speaking, this is probably the only reliably accessible site in the world to see this stunning bird – what a privilege.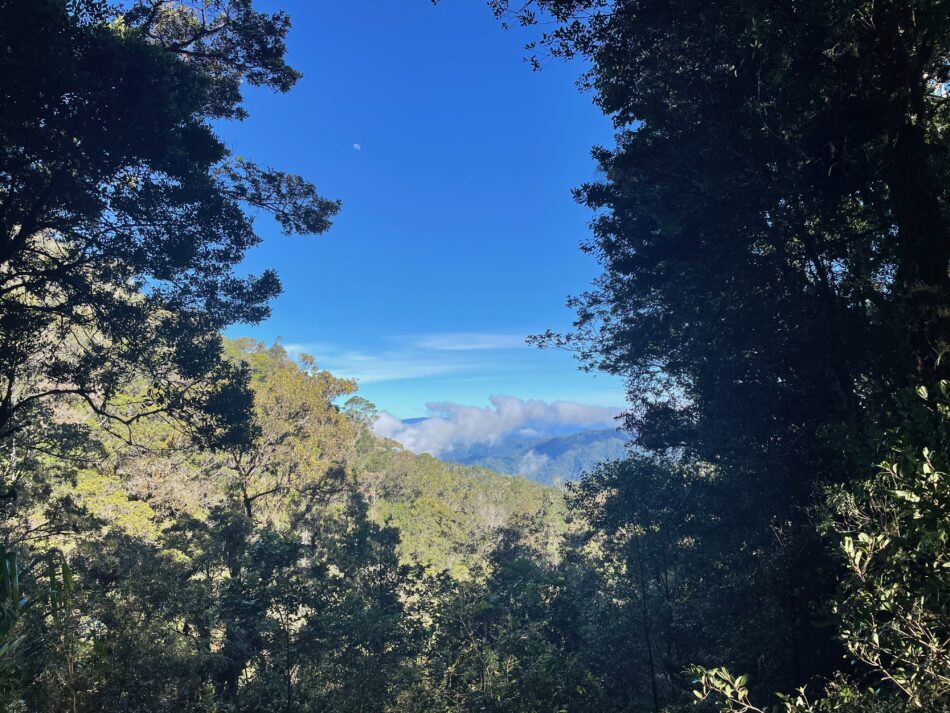 Wandering back down from the mornings stake out spot, we stopped to admire this view. Whilst we were there, a Black Sicklebill was calling from up the valley to the left but still a fair way off. It however then sounded like it was on the move so I wandered slightly down the path to get a better angle up the valley, just in time to see a spectacular male sicklebill gliding down before darting through the gap in the canopy right above my head! What a sight and end to our trip to the top!
We did get one last treat on our way down, a eye level and prolonged view of a fantastic male Regent Whistler.
We ended up leaving the camp at 9:45am and were back at the start of the trail at around 11:30. The steepness of the trail and the concentration required to avoid a nasty fall meant very little birding was done, in contrast to the walk up.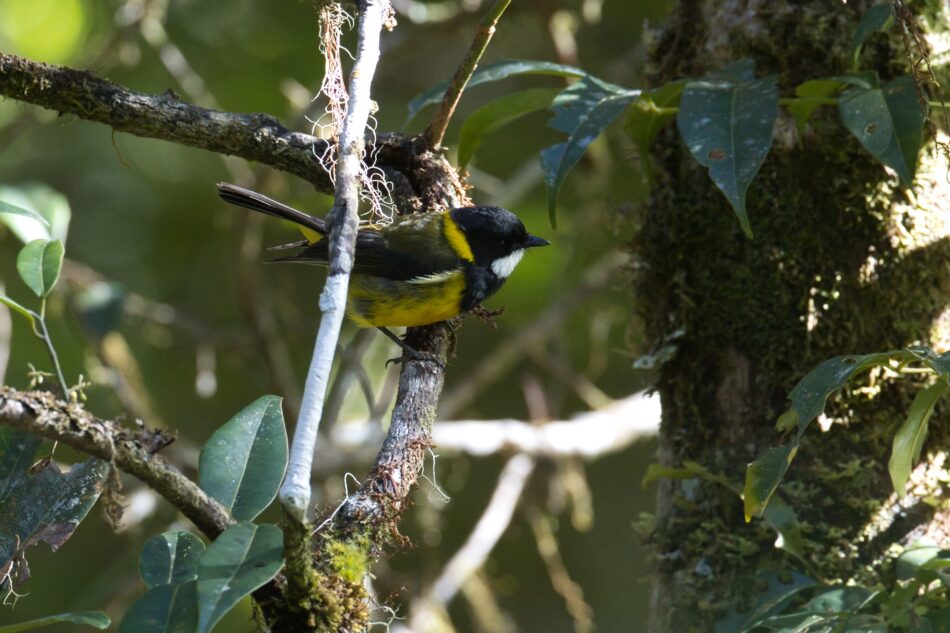 Other birds seen on the day: Glossy Swiftlet, Mountain Swiftlet, Ornate Fruit Dove, White-Bibbed Fruit Dove, Papuan Mountain Pigeon, Moluccan King Parrot, Plum-faced Lorikeet, Papuan Lorikeet, Yellow-Billed Lorikeet, Coconut Lorikeet, Vogelkop Bowerbird, Rufous Sided Honeyeater, Arfak Honeyeater, Red-collared Myzomela, Vogelkop Scrubwren, Blackbreasted Boatbill, Reset Whistler, Friendly Fantail, Dimorphic Fantail, Arak Australia, Black Sicklebill, Canary Flyrobin, Green-backed Robin, Island Leaf Warbler,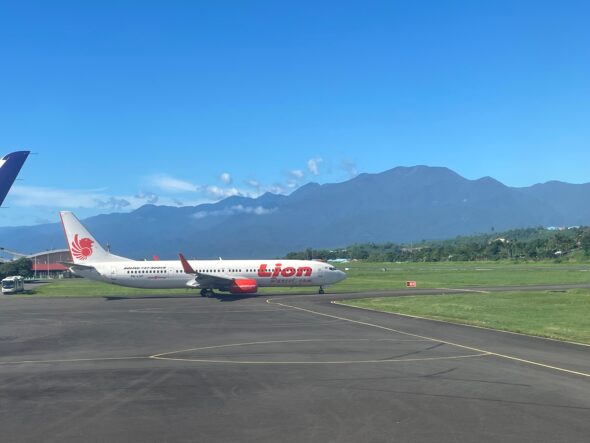 Departing from Manokwari then next morning probably gave us the best view of where we had climbed – up to the top of the peak behind the Lion aircraft!
Next post: Magnificent Bird of Paradise (Arfak Mountains)
Previous post: Vogelkop Superb bird-of-paradise (Arfak mountains)