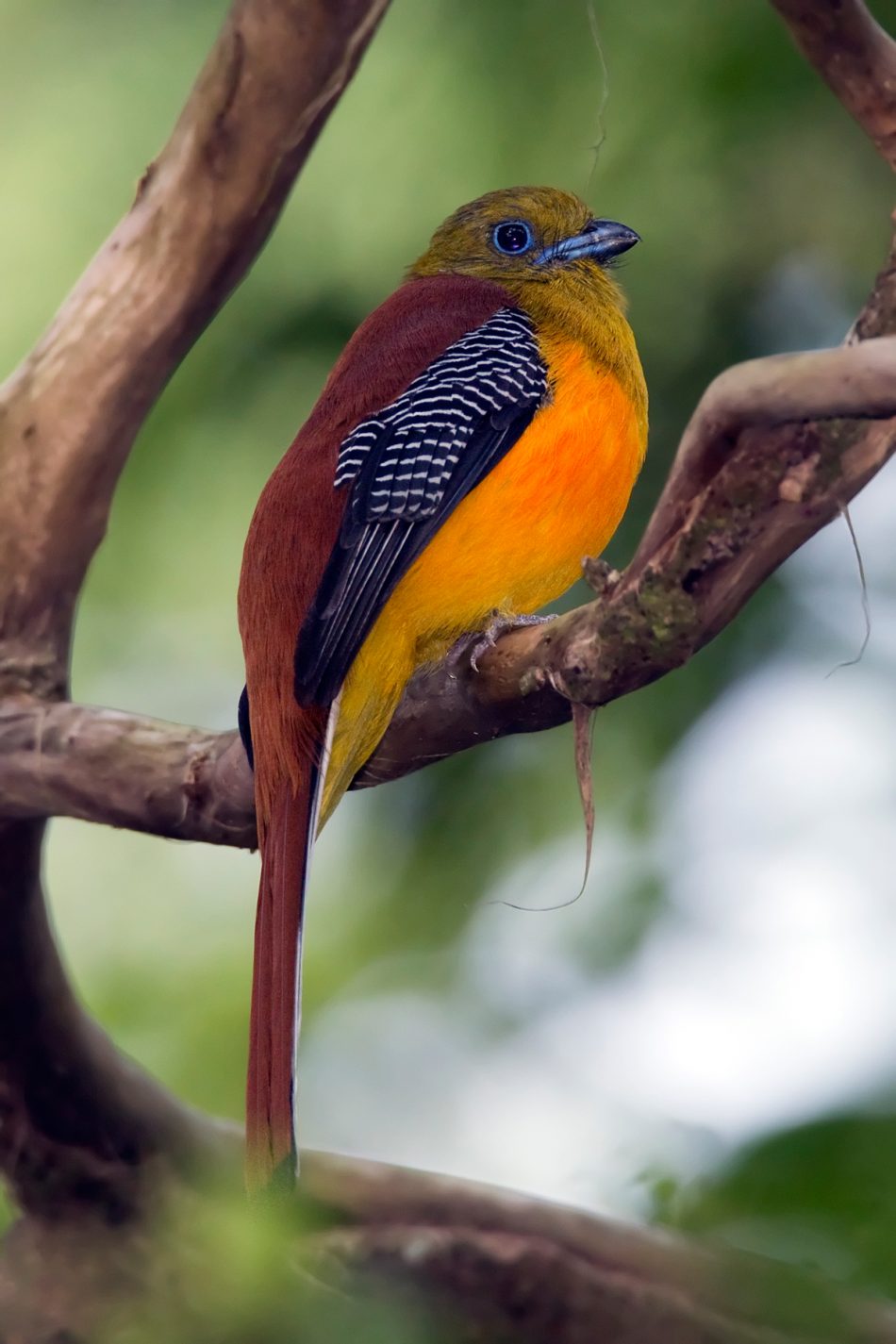 Following a tip off about a nesting Banded Kingfisher at Bukit Tinggi, I arranged to make a side trip there at the start of a pre-arranged trip to Taman Negara. As usual for my Malaysian trips, I flew into KLIA and hired a car there. Bukit Tinggi is fairly easy to get to, taking about 2 hours to drive from KLIA and is just off the E8 Expressway.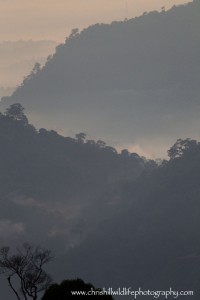 The key spots are said to be the Botanic and Japanese Gardens near the summit (c1000m). Compared to the nearby birding hotspot of Fraser's Hill, this altitude falls between the summit of Fraser's Hill (1,310m) and the Gap (790m). As you may therefore expect, the birds of Bukit Tinggi are similar to that found on the slopes of Fraser's Hill but as is often the case, the relative ease with which certain species can be seen varies by location.
Bukit Tinggi attracts a lot of bird photographers keen to snap the exquisite Silver Breasted Broadbill and Orange Breasted Trogon in particular.
1st October 2012
As it was my first visit, I headed straight up to the summit area and arrived around 3pm. Just before the last gate before the summit, I was surprised to see a pair of siamangs casually sitting lowdown in a tree right over the road. Not believing my luck, I pulled over to unpack my camera gear to try and get a shot. As you have probably guessed, that was too much for even these relaxed siamangs and they soon headed up into the taller trees away from the road. Oh well, lesson learnt but a good start nonetheless.
I bumped into a bird wave as soon as I set off from the summit carpark which yielded Asian Paradise Flycatcher (male – pale morph), Grey Throated Babbler, Yellow Bellied Warbler, and an Asian Fairly Bluebird. There were also decent numbers of Little Cuckoo doves concentrated in a few fruiting trees.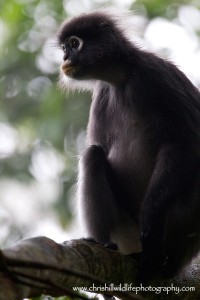 The ominous clouds cut things short when a thunderstorm broke. I sheltered in the Botanic Gardens and spent a bit of time watching a troop of langurs and also found a Streaked Wren Babbler.
Just in front of the car-park, there was also a calling Helmeted Hornbill but it flew down into the valley before I was able to get a view. I did manage to see a pair of calling Rhinoceros hornbills flying across the valley below before calling it a day.
Other birds seen: Pacific Swallow, White Rumped Munia.
2nd October 2012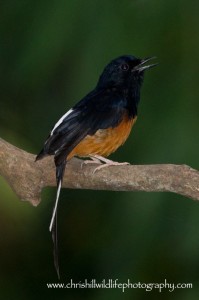 After the washout on the previous afternoon, I was keen to get up to the summit to resume my search for the Banded Kingfisher nest which I had been tipped off about. First hurdle was the guardhouse start of the access road to the top. Apparently people that aren't staying at the Berjaya Hills Resort are not allowed to access the mountain until after 9am. After a bit of pleading, I was finally allowed through. I am not sure how consistently this 'rule' is applied as it obviously significantly impacts on anyone wanting to birdwatch.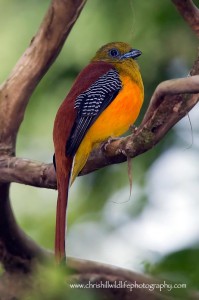 Birds showed pretty much all around the summit area and the following were seen:Black Headed Bulbul, Little Cuckoo Dove, Grey Rumped Treeswift, Olive Backed Woodpecker, Green Iora.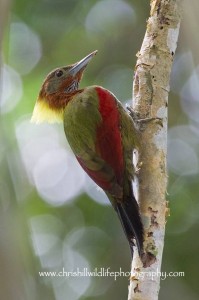 Sultan Tit, Stripe-throated Bulbul, Asian Paradise Flycatcher (dark morph), Little Spiderhunter, Green Iora, Green Billed Malkoha, Spectacled Spiderhunter, Blue Winged Leafbird, Tiger Shrike, Striped Tit Babbler, Large Woodshrike, Brown Barbet, Scarlet Minivet and Rufous Bellied Eagle.
Also spotted was a Giant Squirrel.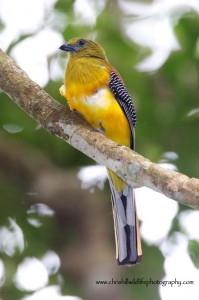 All in all, it ended up being quite a productive short visit, despite missing out on my initial targets and the loss of most of the first afternoon due to rain.