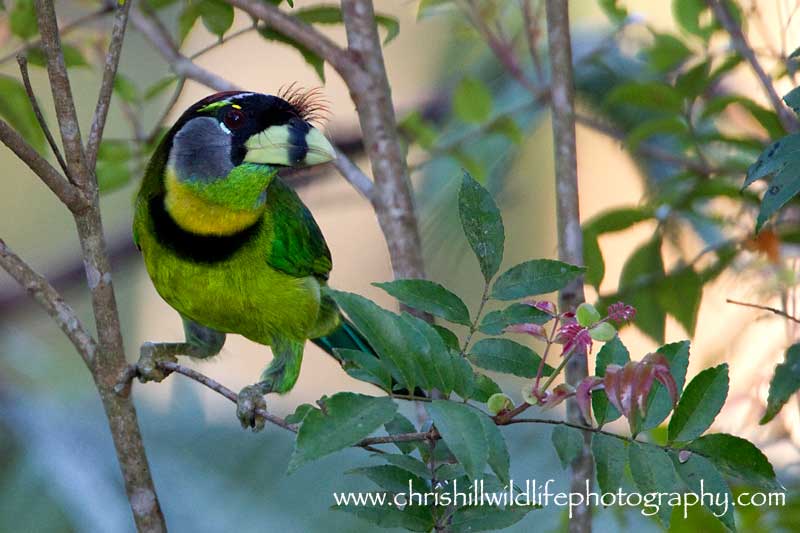 21st September 2012
September allowed a long weekend trip up to one of my favorite spots in Malaysia – Fraser's Hill.  As usual, I got a cheap flight up to KLIA and hired a car from Hertz Sime Darby.  The journey up was pretty uneventful and I was soon off the E1 Expressway on Route 55 up to The Gap.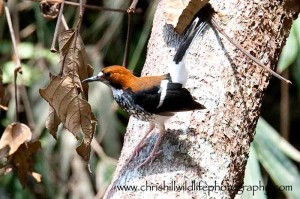 The first and biggest surprise of the day was finding a Chestnut-naped Forktail right on the road!  A lifer for me and a great start to the weekend.
Other birds seen:   Pacific Swallow, Yellow Wagtail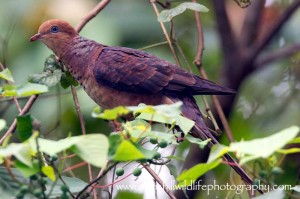 Nothing further was noted until arriving at the summit where a Black Eagle was spotted circling low over the forest right behind the Shazhan Inn.  A lot of the Fraser's Hill 'regulars' were spotted along Jalan Lady Maxwell: Green Magpie, Large Niltava, Chestnut Capped Laughing-thrush, Little Cuckoo Dove, Mountain Fulvetta, Orange Bellied Leafbird, Black & Crimson Oriole, Mountain Imperial Pigeon, Long Tailed Sibia, Grey Chinned Minivet, Mountain Bulbul, Little Pied Flycatcher, White Throated Fantail, Fire-Tufted Barbet and Streaked Spiderhunter.
Also spotted was a lone Long Tailed Macque before we called it a day at 6pm..
22nd September 2012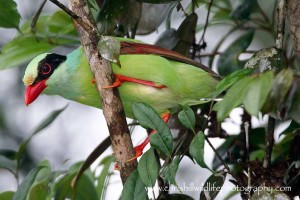 There was heavy rain overnight so I awoke early with the expectation of a foggy start to the day but it was crystal clear pre-dawn (an rare event at Fraser's Hill!).  I started off with a trip to Jelai Highlands – a favorite for bird photographers.  True to form, there was a big group of photographers there when I arrived but I stayed on the edge and picked up some nice shots.
Main birds seen:  Green magpie, Chestnut Capped Laughingthrush, Silver Eared Mesia, Streaked Spiderhunter, Fire-tufted Barbet, Little Pied Flycatcher.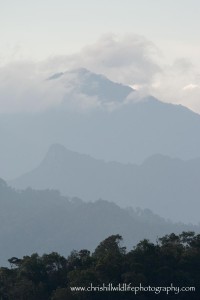 After breakfast, we headed out along the Telecom Loop (around 10am), with a picturesque Dusky Langur being the first thing noted.  Birds seen:  Black Throated Sunbird, Grey Chinned Minivet, Chestnut Crowned Warbler, Black and Crimson Oriole, Streaked Spiderhunter, Sultan Tit, Black Browed Barbet, Mountain Bulbul.  A partridge/pheasant flew across the road in front of us but unfortunately was gone before we could get any sort of view.
In the afternoon, we drove down to the waterfall picking up a Lesser Racquet Tailed Drongo, Black Throated Sunbird, Grey Wagtail, Slaty Backed fork tail and Black Crested Bulbul.  We headed back to Jalan Lady Maxwell but could only add Large Billed Crow and Malaysian Cuckoo shrike to the birds already seen.  No Long Tailed Broadbills for the second night in a row – Jalan Lady Maxwell had always been a reliable place for them for me in previous years….  The other notable thing to add was that the whole day had been cloudless!  Beautiful blue sky all day!
23rd September 2012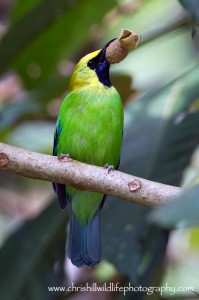 We decided to try the New Road in the morning and bumped into Durai birding with a visitor from Australia.  Durai is a well known figure at Frasers Hill and knows the area and it's birds extremely well. Scanning the valley from the first large viewpoint Durai picked out a distant Wreathed Hornbill and we also saw a soaring Black Eagle and a Stripe Throated Bulbul.  Carrying on down the road, we had a bit of a purple patch in one of the valleys, picking up the following by spending a while birding along just a 50m stretch of road:  Black Headed Bulbul, Blue Winged Leafbird, Bronzed Drongo, Everett's White eye, Hill Blue Flycatcher, White Bellied Yuhina, White Rumped Shama, Grey throated Babbler, Black Throated Sunbird and two of my favorite birds – a Red Bearded Bee-eater and a large flock of Long Tailed Broadbills.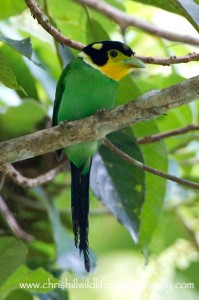 The broadbills were streaming down the hill and we counted over 30 as they crossed the road but I only managed to get a decent view of one perched!
Driving back up the Old Road, we heard a calling Red Headed Trogon so stopped and we got a fleeting glimpse and usually also saw a pair of Orange Breasted Trogons from the same spot.
Other birds seen:  Everett's White-eye, Blyth's Hawk Eagle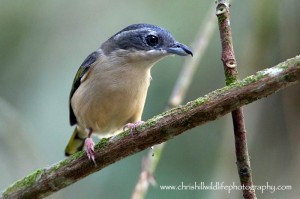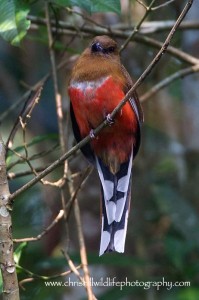 The afternoon was spent along the Bishops Trail and Jalan Lady Maxwell.  Most of the usual birds were spotted plus a good view of a female White-browed Shrike Babbler and a much more confiding Red Headed Trogon at the Jalan Lady Maxwell turnoff.
We also met a Malaysian Wildlife filmmaker who had got some nice footage of the Trogon and Sultan Tits on the Telekom Loop.  He was a fascinating guy and very interesting to talk to – one of the previous films he worked on was about a project in Malaysia where Barn Owl were being used as a natural way of controlling rodent populations in oil plantations – the only effort required was the erection of nesting boxes for the owls to use (see 'Predator Among the Palms').
And another rain free day at Fraser's Hill came to an end..
23rd September 2012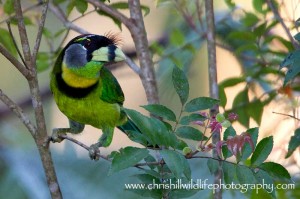 Our early afternoon flight didn't give us a huge amount of time so I made the dawn pilgrimage to Jelai Highlands hoping to a less crowded car park now the weekend had ended.  As it turned out, there was only one other photographer there – he had stayed behind as he had missed out on the Green Magpie on the previous day!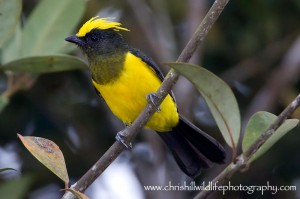 He wasn't to be disappointed again as the Green Magpie showed well along with a nice Fire Tufted Barbet and Sultan Tit.
The only other bird of note was a small flock of Chestnut Crowned Laughing Thrushes just of the road that runs alongside the Golf Course.  These birds seem to harder to see these days up at Fraser's Hill.
Nothing significant was noted on the drive back to KLIA.