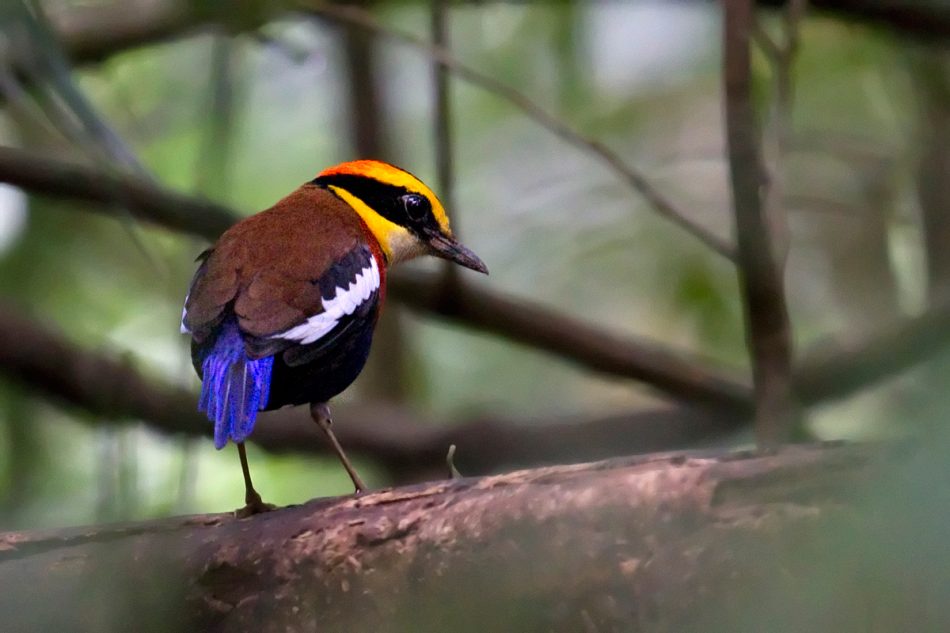 Taman Negara – Trip Report – December 2012
After a couple of previous trips to Sungai Relau (Merapoh), I was keen to get back and spend more time at Taman Negara.
The trip was very similar to my previous ones (July and October). I drove from KLIA to Merapoh and stayed at the Sungai Relau Park HQ, without having made any prior arrangements for accommodation. As per prior trips, the HQ was not busy and although there was a large group camping, I did not see them venture outside of the HQ grounds and I had the trails to myself.
I had three nights and I spent my time as largely as follows:
on the first 3km of the road, venturing into the forest for a short distance at various points if something looked interesting
walking the Rentis Palas and Negeram trails
nocturnal birding round the bridge and first 100m of the road inside the park
spotlighting the Oil Palm plantation road in the evening
As the trip was very similar and to avoid repetition, I will just comment on key differences or sightings noted:
there were a lot more small fruiting trees around in the area and a lot more fruit-eating birds as a result. For example, just inside the park, there were a couple of fruiting trees right by the road that attracted large numbers of hanging parrots, bulbuls, the odd barbet and a few Green Broadbills.
Rhinoceros and Black hornbills were constantly around and were sighted regularly (albeit mainly poor views). White Crowned and Helmeted Hornbills were only heard and were calling a lot less than during my previous visit.
there was a Great Argus calling fairly close to the road as it starts to climb the first hill but unfortunately in an inaccessible area and I was unable to get close, even trying from the 'Rentis Palas' trail. One evening it was calling a lot closer to the bridge but unfortunately it had retreated back up the hill by the time I was able to get onto the trails the next day.
I was fortunate to bump into a flock of around 7-8 Crested Firebacks on the road, within less than 100m of the bridge. They moved back into the forest when they saw me, but came out again further down the road before crossing and disappearing from sight.
The Buffy Fish Owl was particularly noticeable fishing near the bridge, especially in the evenings where it seemed to have a favorite fishing perch.
The Large Frogmouth is still about but based on this experience is now very difficult to see. I tried one morning for a short time and only got fleeting views of it flying, always disappearing into thick vegatation. However, a Gould's Frogmouth sighted during the day was more than consolation! I accidentally flushed this from its daytime roost when venturing off the main road down a wild boar track and fortunately managed to get a few photos of it after a painfully slow approach.
The Oil Plantation spotlighting was still good but not as productive as on my last trip with a Leopard Cat and a few Masked Civets sighted.
there was a male wild boar that had died fairly recently close to the Negeram trail. It remained untouched by anything bigger than flies for the few days I was there, illustrating the lack of larger scavengers in Asian rain forests.
The Malaysian Banded Pittas were still around and I had good views of both the male and female. The Garnet's were hardly calling and were not in the areas they were seen in October.
There were a good variety of mammals around – Mouse and Sambar deer, two types of Giant Squirrel, Civets, Leopard Cat, Wild Boar etc
Key birds seen:
Chinese Pond Heron, Black Thighed Falconet, Crested Serpent Eagle,
Rhinoceros Hornbill, Black Hornbill, Crested Fireback, Large Frogmouth, Gould's Frogmouth, Buffy Fish Owl,
Malaysian Banded Pitta, Green Broadbill, Red & Black Broadbill, Scarlet Rumped Trogon, Dark Throated Oriole, Short Toed Coucal, Greater Racquet Tailed Drongo, Large Billed Crow, Oriental Magpie Robin,
Green Imperial Pigeon, Emerald Dove, Blue Crowned Hanging Parrot, Hill Myna, Fairy Bluebird, Golden Throated Barbet, Asian Glossy Starling,
Red-Eyed Bulbul, Spectacled Bulbul, Yellow-Bellied Bulbul, Cream-Vented Bulbul, Yellow Vented Bulbul, Hairy Backed Bulbuls, Buff Vented Bulbul,
Asian Paradise Flycatcher, Greater Leafbird, Rufous Chested Flycatcher, Asian Brown Flycatcher, Rufous Winged Philantoma, Siberian Blue Robin (f), White Rumped Shama, White Crowned Forktail
Black-Throated Babbler, Sooty-Capped Babbler, Short Tailed Babbler, Rufous Capped Babbler, Horsfield's Babbler
Rufous Woodpecker, Great Slaty Woodpecker, Checker Throated Woodpecker
Spectacled Spiderhunter, Grey Breasted Spiderhunter, Yellow Breasted Flowerpecker, Plain Sunbird, Brown Throated Sunbird,
Heard only: Great Argus, White Crowned Hornbill, Helmeted Hornbill, Malaysian Rail Babbler, Garnet Pitta, Red Bearded Bee-eater, Brown Wood Owl, Black & Yellow Broadbill
Mammals seen: Masked Palm Civet, Mouse Deer, Wild Boar, Sambar Deer, Dusky Langur, Long Tailed Macaque, Black Giant Squirrel, Cream-Coloured Giant Squirrel, Prevost's Squirrel, Shrew Faced Ground Squirrel, Spotted-Winged Bat